Rivers state host French investors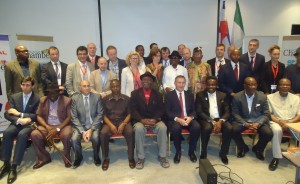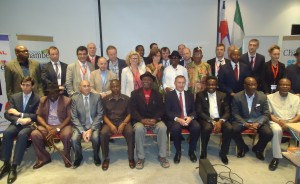 The President of Port Harcourt Chamber of Commerce, Industry, Mines and Agriculture (PHCCIMA), Engr. Emeka Unachukwu, the Deputy speaker of the Rivers state House of Assembly, Hon. Leyii Kwanee, the Deputy Managing Director of Total E&P, Nicolas Brunet, among others in the state have staked shared integrity in building confidence for a delegation of 18 visiting French investment groups exploring expansionist business opportunities in the state.
At a session which afforded the French businessmen an opportunity to meet with prospective Nigerian partners and clients in Port Harcourt, the investors were guaranteed a safe business terrain while security of their stakes in the state was assured.
PHCCIMA informed the French companies numbering 19, that Nigeria remains the friendliest country among the African countries for investors.
Engr. Emeka Unachukwu, while giving the private sector perspective said the wealth of natural resources, availability of labour, and robust cohesion of the local business community through the instrumentality of the Port Harcourt Chambers, added to government efforts, make Rivers the most investment friendly economy in Nigeria.
Unachukwu, however, cautioned the visitors that, "To take full advantage of the Rivers enabling environment, you must not act alone; you must be guided by the Organised Private Sector like Port Harcourt chamber of commerce with strict compliance with the Nigerian Content Act otherwise you are bound to fail."
He said Nigeria has a very large land mass, Gross Domestic Product (GDP) which as at 2012 was 451.1 billion and Gross Domestic (GD) growth rate at 7.1 percent.
Speaking further, he said the market strength of the country lies in the population of over 150 million people, while it is operating on economy dependent on oil and agriculture. He added that labour is cheap as well as cost of production in comparison with other countries.
"The initial problem which has now been addressed was the state of insecurity and probably some inconsistencies in government policies which are been tackled", even as he laid credence to Governor Chibuike Rotimi Amaechi commendable strides in tackling the power sector, which he said is capable of affecting businesses positively.
The PHCCIMA helmsman further noted that the purchasing power in the country is lucrative because of the large population and increasingly sophisticated consumer base and concludes that Nigeria remains the best destination for investment.
Deputy Speaker of the Rivers State House of Assembly (RSHA), Hon. Leyii Kwanee, who spoke in an interview with DailyPost said that the state was hostile to investors "but when governor Amaechi came onboard much have been put by way of resources deployed into the security situation of this state and as I speak with you today, I think Port Harcourt is business friendly"
He noted that the House of Assembly is working to ensure that issues that would hamper investors from establishing their business in the state are tackled.
On the issue of double taxation, he said "we have been dwelling majorly on the issue of taxation which has constituted a nightmare to business operators before this time but effort at geared towards enthroning a harmonized taxing system" he said.
Deputy Managing Director (DMD) Total exploration and production (E&P), Nicholas Brunnet, narrated the company's experience in Egi and other host communities in Rivers State. He told the visiting French investors that Rivers State is conducive for an investor.
The foreign investors tour facilitated by PHCCIMA in conjunction with Total E&P and UBIFRANCE attracted French business groups including Adour International, Asymptone, Adeva, Entrepose, ETI, Evolutec Engineering, IEC Telecom, Jifmar, OGS, NIEDAC France, Phoceene Nigeria, Pyro Controle and Sorcom with multi-sector technical interest.