Stanbic IBTC Stockbrokers Appointed to Manage FG Bonds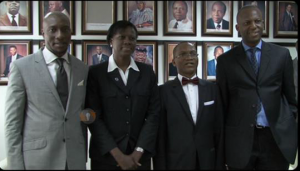 In what can be described as a major breakthrough, the Stanbic IBTC stockbrokers group has been named by the Debt Management Office (DMO) to manage and secure the Federal Government Bonds.
This is to mobilize and galvanize retail investors to get more involved and also set the pace for more active trading processes in the emerging leading global market, with increased level  of trade activities witnessed  in the year 2012.
The Director General of the Debt Management Office (DMO) Dr Kenneth Nwankwo, who presented the Stockbrokers to the Nigerian Stock Exchange (NSE), was full of optimism that the bond market will  receive more subscription and investments.
He said "since 2003, we have been trying to develop the sovereign bond market in Nigeria and we have been taking various steps to do that. Recently, JP Morgan included the Nigerian Bond market in its index".
Still on the bond market issue he asserted "That shows that in their independent assessment, our bonds market is growing, though we still have some more challenges to deal with, but it is appreciated all over the world that we are doing the best to develop the bond market."
Mrs Patience Oniha, the Director of the Market Development for the Debt Management Office , speaking on the development believed that with the engagement of the services of the Stanbic IBTC stockbrokers, retail investors would have a smoother path in trading their portfolios.
She also said by sealing the deal with Stanbic, the DMO  was providing a viable platform for the NSE  to become more viable in the liquidity rate, which enhances volumes of trade, investments and capital market activities.