Ex-Gov Audu of Kogi State Declared wanted by EFCC over N4bn Fraud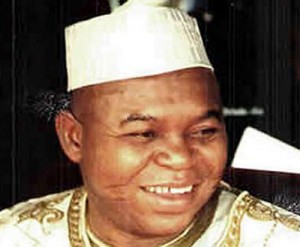 Last Tuesday the Economic and Financial Crimes Commission (EFCC) attempted to bring in former Kogi State Governor Abubakar Audu for questioning over alleged N4bn fraud. The attempt failed, according to EFCC spokesperson, Mr. Wilson Uwujaren "he fled when operatives of the commission stormed his 32 Suleiman Barau Street, Aso Villa, Asokoro-Abuja residence in the early hours of today."
After several attempts to bring him in for questioning has failed, EFCC on Thursday declared the former Governor wanted over alleged N4bn fraud.
The commission has called on the public to report to their nearest office if anyone has information about his whereabouts.
In a statement, Uwujaren said, "Attempts by the EFCC to arrest Audu at his 32, Sulaiman Barau Street, Asokoro, Abuja residence on December 11, 2012 failed as he allegedly evaded arrest. The former governor is alleged to have fraudulently enriched himself to the tune of over N4bn while he held sway as governor of Kogi State between 1999 and 2003.
"The move to arrest the ex-governor followed a Supreme Court ruling of November 23, 2012, which dismissed his appeal to continue to protract his corruption trial by EFCC."
In exempt to avert arrest and trial, Audu on Thursday asked a Federal High Court, Abuja to prevent EFCC from arresting him.
Audu said through a summon filled by his counsel, Mike Ozekhome, SAN, that EFCC cannot commence a fresh process of prosecuting him because the he was standing trial on the same matter back home in Kogi State before a high court.
He appealed to the court to disregard a letter sent to him by EFCC inviting him to an interview on the same matter, the letter with reference No:CR:3000/EFCC/ABJ/ISOS/TM.11/VOL.7/37, dated December 11, 2012.
He further asked the court to declare that the raid of his residence by the EFCC in early hours of December 11, "without any prior invitation and without a valid search warrant or warrant of arrest, under the pretext of arresting him, was illegal."