EFCC Ordered to Verify Babalakin's 'Illness'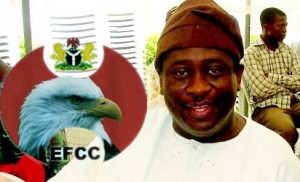 The trial for the Bi-Courtney Highway Services, Dr. Wale Babalakin, was stalled yesterday following his failure to appear before a Lagos High Court, Ikeja, where he was to be arraigned for allegedly laundering money.
Dr. Wale Babalakin was accused of allegedly laundering money for convicted former governor of Delta State, James Ibori.
Babalakin's counsel, Ebun Sofunde (SAN), court presided over by Justice Adeniyi Onigbanjo, that his client could not make it to the court as he was on admission at the Lagos State University Teaching Hospital.
Babalakin, alongside Mr. Alex Okon, is accused of allegedly aiding Ibori to launder N4.7bn of government's money.
The Economic and Financial Crimes Commission (EFCC) said they used different companies as conduits to launder the money.
Stabilini Visioni Ltd., Bi-Courtney Ltd., and Renix Nigeria Ltd are the other companies charged alongside Babalakin and Okon. The companies are said to have been used to lauder the money.
The accused are facing 27 counts of conspiracy and fraud.
The EFCC supposed that the Babalakin had illegally assisted Ibori to transfer different sums to Erin Aviation account in Mauritius for the purchase of a Challenger Jet.
EFCC counsel, Mr Rotimi Jacobs (SAN), in his comments suspected that Babalakin was using tactics to frustrate his indictment.
Jacobs, who was amazed at the development, said it could not be, since the medical report was issued on the same day (last Monday) Babalakin met with the EFCC in Abuja.
He said, "It took the EFCC close to a week to get him. He was served with all the processes and released because he took an undertaken that he will appear in court for his arraignment.
"We believe if there is a medical issue that he should have contacted us yesterday (Wednesday) rather than to confront us with this application this morning.
"We are disappointed by the tactics of the first defendant (Babalakin) but Your Lordship can bend backward and allow us to come back next week."
However, the judge said, since an admission of a patient in a hospital like LUTH was easily confirmable, he ordered the EFCC to go to the hospital, verify and report to the court.