Ogbuagu Anikwe: Fashola's "Village" Habits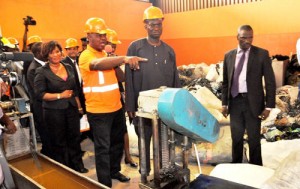 There's a good reason to admire Babatunde Fashola, the hardworking Governor of Lagos State; it's so easy to see that the man wants to contribute a key chapter to, and not become another footnote in, the history of Lagos. All well-meaning folks should therefore support his ongoing efforts to make Lagos a better place for the coalition of tribes and tongues that reside in this former federal capital.
Regrettably, I have once again found cause to disagree with the Governor on another social message that he is trying to sell. I refer to his characterization of Nigerian city habits as "village" habit. Mr. Fashola was quoted by the media to have said that his government "will not fold its arms while some residents live in Lagos as if they are living in their villages." His words: "You can't continue to live like you are in your village here in Lagos. Life in Lagos is changing by the day. The government has spent a fortune to ensure good environment, drainages, roads and transportation system. It is unfortunate some people are still living as if they are in their village. Please, if you can't obey our environmental and traffic laws, stay back in your village."
On reading what His Excellency said, my mind went back to my village and I found myself violently disagreeing with the governor. In my village, we do not spend a fortune on public works but the village is better: the air is fresher; the roads, though un-tarred, are always weeded and kept clean through communal efforts; our pathways are adorned by natural green shrubbery; there are no traffic snarls occasioning mad and reckless driving; and no group of people goes into virgin village land to construct and live in shanties. My village evokes nostalgic feelings in me, and I am not alone; this is one reason why a certain ethnic group performs "mass return" every December – because village life provides an opportunity to escape from the madness of city life; they can breathe fresh air, free themselves from traffic wahala, and enjoy the sense of community that city life gradually drains from us all.
The point must be made that Nigerian city habits – which the governor incorrectly describes as village habits – is caused by bad governance. The masses are merely victims. Bad governance is reflected in poor urban planning, poor and compromised supervision of public works that lead to poorly constructed and maintained roads, poor waste and sewage disposal management, poor enforcement of building codes, and poor transportation systems. Poor governance puts pressure on low income urban dwellers, forcing them to react in ways that the governor describes as village habits. Governor Fashola is wrong. Nigerian city habits are symptoms of a terrible disease vended by bad governance; poor people's reaction to this state of affairs is not and cannot be characterized as village habits.
I have been living in Abuja for 10 years now, and I lived in Lagos for 16. Thus, I have seen firsthand the devastation that poor planning has wrought on these two city-states when we forcibly converted them to federal territories. Poor city planning and poor supervision of environmental and building laws forced poor people to congregate in areas that would enable them have quick access to opportunities in choice locations that the rich appropriated to themselves; this is the only way they could catch the crumbs as they fell from their masters' tables. In addition, lack of attention to the needs of original inhabitants compelled them to also flee to shanties akin to the abodes of the resident poor.
The worst parts of Abuja are areas inhabited by poor residents and original inhabitants. Yet, before Abuja was annexed and made a federal territory, it was known, among other things, as the place where great potters were produced. A certain Mr. Michael Cardew, a colonial officer and renowned porter, was given the task of choosing a site for a pottery center for Northern Nigeria. In April 1951, after an extensive tour, he recommended to Kaduna as follows: "We decided Abuja after all…; it is good and central for Northern Nigeria, wonderful local pots, a nice town where trainees can live…" This is not the description of Abuja where the original inhabitants live today. Fashola's state is the same: Makoko and Mushin, the areas where original inhabitants live in Central Lagos, are the worst neighborhoods in Lagos.
It is instructive that when public officials wake up from their criminal slumber to rev their bulldozers of destruction, they bore into the sabon garis abodes and side-step the areas inhabited by the original settlers. For instance, on Saturday, 14 July 1990, rather than face north towards Makoko and Mushin, Gov. Raji Rasaki's bulldozers turned south to crush Maroko; they have continued to growl at Ajegunle and Okomomaiko since then. In Abuja, Malam el Rufai's bulldozers left the unsightly huts of original inhabitants and went after slums created by poor residents. The current FCT Minister is completing the devastation, beginning with Mpape.
Our bad city habits are not a Lagos phenomenon; every Nigerian city, including Abuja, is equally guilty. The point is that these city habits were not caused by poor residents but by bad governance that dehumanizes the poor. I commend Fashola because he is taking proactive measures to right the governance wrongs that give rise to bad city habits, but to suggest that this phenomenon is a "village" habit is to betray a state of mind of someone who was neither born nor grew up in a proper village setting in Nigeria.