Infringement on patents: Samsung sues Apple over iPhone5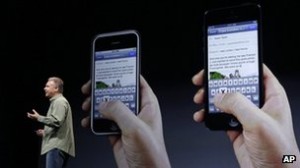 Samsung is suing Apple over claims that the iPhone 5 infringed on its patents. The Korean electronics giant filed the lawsuit in a U.S. court Tuesday, Reuters reported.
"We have little choice but to take the steps necessary to protect our innovations and intellectual property rights," Samsung said in a statement.
Last month, court documents filed by Samsung revealed plans to add the latest iPhone to its existing patent lawsuits against Apple.
"Samsung anticipates that it will file, in the near future, a motion to amend its infringement contentions to add the iPhone 5 as an accused product," the company said at the time. "Based on information currently available, Samsung expects that the iPhone 5 will infringe the asserted Samsung patents-in-suit in the same way as the other accused iPhone models."
The company previously warned in late August that it would sue Apple if the iPhone 5 was LTE-capable.
Samsung's recent claims come after a U.S. court removed a temporary sales ban against its Galaxy Tab 10.1 on Monday, according to Reuters. Apple won the injunction in June, after claiming the tablet infringes on an iPad-related patent.
"We are pleased with the court's action today, which vindicates our position that there was no infringement of Apple's design patent and that an injunction was not called for," Samsung said in a statement.
Apple filed a motion last month that sought additional damages of $535 million, plus $172 million in supplemental damages, on top of its previous award — for a total of $707 million. It also requested a court order for a permanent U.S. sales ban on Samsung products that allegedly violate its patents.
In August, Apple won more than $1 billion in damages after a highly-publicized court battle that found Samsung guilty of patent infringement.

Source: Yahoo!