Ikoyi-Lekki link bridge to be commissioned in November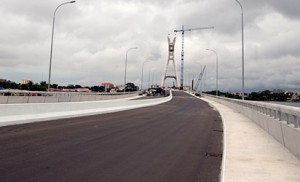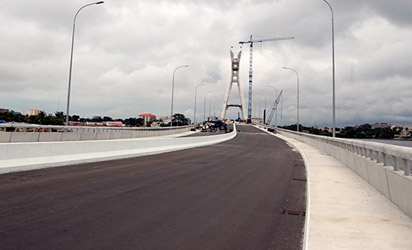 Motorists along Ikoyi, Lekki-Epe axis will soon heave a sigh of relief as the first ever cable styled bridge of its kind in the sub Saharan West Africa region – Lekki-Ikoyi Link Bridge, has reached 95 percent stage of completion.
The link bridge project is sponsored by Governor Babatunde Fashola administration in Lagos State and being constructed by the construction giant, Julius Berger Plc.
he project was conceived in 2008, as solution to the perennial bottleneck on the Lekki- Epe road being serviced by only one access road.
Therefore, people of the highbrow choice area and the adjoining Victoria Island will soon witness a tremendous and pleasurable driving experience upon completion of the link bridge which will cause a relief from the daily traffic challenges the residents face trying to connect either Ikoyi or Lekki through Falomo Bridge, Alfred Rewane Road or Lekki-Epe Road.
Femi Hamzat, Lagos State commissioner for Works and Infrastructure, described it as historic, noting: "No doubt it is a testament to the sagacity of an administration determined to build tomorrow's infrastructure today. It is the hallmark of a commitment to the welfare and socio-economic wellbeing of its people."
When Vanguard Newspaper visited the site recently, it was gathered that the level of work had reached over 95 percent and according to Hamzat the target is to commission it before the end of this year, specifically first week in November.
The aesthetic bridge is a standard megacity compliant facility. It is to serve as a strategic bypass along the Falomo Bridge and Alfred Rewane, Independence Bridge and Ahmadu Bello Way.
Designed as dual carriageway, the bridge directly connects Lekki Phase I Estate with Alexander in Ikoyi. It is envisaged that on completion it would improve the living standard of the people and enhance social interaction, as it represents a significant content in the state's tourism portfolio.
"The infrastructures provided must not only reflect present realities but also envisage future growth trends," Hamzat stated, adding that it will also reduce travel time, save man-hour loss by motorists.
Moreover, the link bridge is expected to reduce the traffic on Lekki-Epe Toll Gates, as motorists who do not have any business along the axis would have the option of going through the link bridge, either from Ikoyi end to the other or Lekki end to the other, thereby, eliminating the present traffic rush being experienced on daily basis on Lekii Epe Expressway.
Technical details of the bridge obtained from the state Ministry Works and Infrastructure shows as follows: total length of bridge – 1.358km comprising of 722m approach and main bridge 466m; length of cable- 170m (suspended section). Eight of pylon: 87m from water level; navigational requirement clearance average of 9m above high water level.
Width is 16m across (8m on both sides); walkway – 4m across (2m on both sides); road works- Ikoyi end – 338. 7m while Lekki end is 311.5m.
OTHER LINK BRIDGES IN FOCUS
According to reliable sources, the state is planning another link bridge from Ojodu-Berger to Ikorodu to Isawo with a stop at Ikorodu. "But the construction will be tough, because the alignment is built up and the compensation will be high. So we are looking at various options," the source said.

Source: Vanguard