House of Reps probe Femi Otedola's N140 billion loan repayment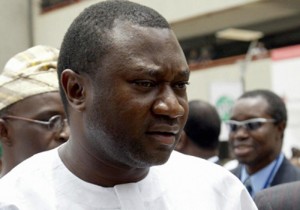 The House of Representatives on Monday announced that it would investigate the controversial debt settlement deal reached between businessman, Femi Otedola and the Asset Management Company of Nigeria (AMCON).
AMCON had announced the day before that Otedola's company, Zenon Petroleum paid off its N140.999 billion naira debt owed the corporation last Thursday. AMCON said it received assets and cash from Otedola but declined to give full details, fueling suspicion that the former Forbes billionaire may have gotten a sweetened deal.
AMCON's Managing Director/Chief Executive Officer, Mr. Mustafa Chike-Obi, who made the settlement public, has however come under intense fire from the public following his refusal to make public details of the deal, citing a 'confidentiality' clause in the agreement between both parties.
Zenon initially owed 5 banks non preforming loans totaling N192.423 billion, before the debts were taken over by AMCON, and priced at N140.999, after negotiations with Otedola.
The CBN had last week barred banks from lending to Otedola amongst others following their refusal to service their debts.
However, the House of Representatives in a statement by its Chairman, House Committee on Media and Public Affairs, Alhaji Zakary Mohammed, said the House would investigate the assets and cash transferred to AMCON adding that "the procedure is unacceptable", and wondered why the transaction was done in 'confidentiality and secrecy'.
The House maintained that AMCON as a public company has no business engaging in secret dealings.
"We have observed with interest the payment of N140.9billion, being outstanding debts of a businessman, Mr. Femi Otedola, to AMCON.
"This payment was credited to AMCON's Managing Director, Mustafa Chike-Obi.
"Obi confirmed that AMCON Board met last Thursday and approved the transfer of the businessman's assets as well as undisclosed cash to AMCON as full payment and final settlement of Otedola's liabilities.
"The 7th House of Representatives will, on return from its one week oversight tour, constitute a committee to investigate the amount and the assets so transferred to AMCOM.
"It is imperative to state that with the state of our economy, this transaction was done with 'confidentiality and secrecy'.
"It is curious that AMCON, being a government establishment which is under the purview of the National Assembly, could do that without the knowledge of the House.
"To say the least, the procedure is not acceptable. The National Assembly would be interested in getting full details of the transaction."
Forte Oil, which Otedola maintains large shareholding, is part of the consortium, Amperion Power Distribution Ltd, which last week emerged as the preferred bidder for Geregu Generating company, with a bid of $132 million.

Source: Daily Times