CBN Governor, Sanusi Lamido urges restraint in oil windfall spending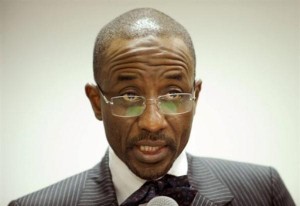 Governor of the Central Bank of Nigeria (CBN), Lamido Sanusi, has cautioned that the windfall from the current rise in the price of crude oil in the international market should not be deployed for immediate consumption, warning that the trend could be reversed.
Sanusi who spoke at the end of the Monetary Policy Committee (MPC) meeting in Abuja, said the committee noted the rise in crude oil prices, but could not react to it due to fears that it could create adverse consequences for the economy in the event of a reversal.
Briefing newsmen in Abuja, he said, "The Committee noted the rise in oil prices but cautioned against a hasty deployment of the windfall to immediate consumption as the trend could be reversed. Monetary policy could not, therefore, under the circumstance, react to what may be purely temporary developments.
"Overall, the MPC believes that the current rise in crude oil prices and the tight monetary policy regime presented an opportunity for building reserve buffers in the light of the uncertainties surrounding the global economy".
Sanusi also expressed delight that despite the threats from a combination of global and domestic factors, the level of economic growth in the third quarter of 2012 remained robust and the year-end forecast would likely be met owing largely to the improvements in power supply and the steady progress of reforms actions in respect of the alleged fraud in the petroleum subsidy regime and improved fiscal operations.
He said, "With this development, the Committee observed that the inflation outcome for the remaining period of the year is likely to be lower than the initial forecast of 14.7 per cent. The Committee would continue to monitor developments in the price level, and remain firm in its commitment to price stability as its mandate".
The Apex bank boss said that the growth rate of real output, though impressive by global trends, was on the downward trend since the first quarter of 2010 most especially in the agricultural sector which was of concern to the Committee adding that the declining output in the agricultural sector was traceable to the security challenges and high intensity of rainfall which has led to flooding in several parts of the country.
He however noted that the measures taken at the last MPC meeting have succeeded in stabilizing the foreign exchange market as well as enhancing the build-up in external reserves.

Source: Daily Independent