"Aero Contractors offers the most robust distribution and payment system" – Abel Orukpe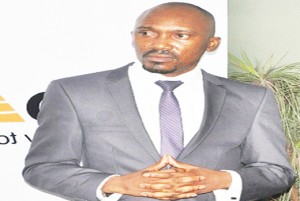 Airline business is not only about aircraft and air safety but also about the passengers who are the reasons why airlines exist. As a results, airline operators at all times ensure they offer their passengers before, during and after every flight the best of their services especially when booking and making payments. Aero Contractors Airline, through its Acting Head of Commercial, Mr. Segun Medubi, in this interview with Correspondent, Abel Orukpe, said some innovations pioneered in the aviation sector by the carrier have helped passengers to book flights and make payments with ease. Excerpts:
There have been complaints by passengers that booking and paying for flights have not been easy and in view of this, do think anything has changed and what has Aero done to ensure it provides customer books and pay for flights at their convenient time?
Picture a scenario where a Lagos resident at his home in Victoria Island or Badagry on calm Saturday morning suddenly receives a call informing him that he had to be in Abuja by mid afternoon. Abuja is an eight-hour drive from Lagos. The first decision you have to make is the easiest: your logical choice for mode of transport will be by air. You will then be faced with the choice of which airline to fly with. Traditionally, you would head to the airport and then scout around for the available flights that suit your time, and if you have options and you are price sensitive, you will go for the least expensive. But that's a tall order; you are unlikely to get to Abuja that afternoon.
You can also get in touch with a travel agent, though this may not be ideal for last minute purchases. Today however, options for accessing information, making bookings and payments have opened up globally. Nigeria has also braced up to the challenge and by default today, most airlines offer a variety of options for booking and paying for a seat on a flight. Today, the same Victoria Island or Badagry resident can send a Short Message Service (SMS) on his mobile phone to retrieve an airline's schedule and fares and make a booking on the phone as well. He can go on to pay for the booking on the phone and check-in online. In effect, he has reduced the need for human intervention up till boarding; if travelling with hand luggage only. There are still several options he has in his path to securing an airline seat. He can book on his PC, pay on an Automated Teller Machines (ATM) and check-in on his PC or phone. If he has excess baggage, he can pre-pay for this on the airline's website. Another set of options available to him would be to call the call centre, get a booking reservation and pay at a designated bank and check-in and pay for excess baggage online. Again, this option may not be suitable for that particular Victoria Island or Badagry customer as banks are closed at weekends.
These booking and payment options are revolutionary in Sub Saharan Africa. Looking at the Nigeria aviation industry, this is even more so. In spite of her status in Africa, Nigeria is beset by very formidable infrastructural issues, especially with regards to power and telecommunication. Regardless, the Nigerian economy still seems to provide opportunities for innovation, though not with considerable effort. But in Aero, we go the extra mile to be innovative to ensure our services are convenient to our customers.
What are the modes of bookings and payment that Aero has put in place to eliminate human intervention?
Aero Contractors without doubt is a pioneer in this aspect of the airline business endeavour, as its initiatives have been copied by other airlines in the Nigerian airline industry. The airline arguably offers the most robust distribution and payment system when ranked with other Nigerian domestic airline service providers. Aero aims at improving the customer experience from start to finish. It is possible today, to eliminate human intervention in the process, up to the point of screening. This saves the customer time and money. It is possible to do the following if you are travelling with only hand luggage: make your booking via SMS, make your payment via SMS, board using flyaero.com, print your boarding pass and proceed straight to screening.
How can passengers who want to check Aero's flight schedules go about it?
Passengers can always check for flight schedules by visiting www.flyaero.com or by calling the call centre. If you have no internet connection, you may also check for flight schedules by sending an SMS on any Nigerian network.
Some passengers have complained that booking Aero flights is difficult. In view of this, could you explain the airline's flight booking procedures?
The most popular booking channel is also the website www.flyaero.com. Booking can also be done by SMS as illustrated earlier. The call centre is also a useful channel. Designated kiosks also provide the convenience of booking and payment. The booking process gives you a unique reservations reference which captures your booking information.
What are the payment procedures offered by Aero to its intending passengers and what does the airline hope to achieve with these innovations in the aviation sector?
There are several payment options available. The major challenge in Nigeria once again is infrastructure; with stable electricity supply not yet a reality. This is a formidable obstacle, making connectivity and e-payments challenging. Regardless, there are still several e-payment options available. These include debit card payment on the web using Visa and Master Cards, payments at our designated banks (as the banking applications can connect to the reservation system), and payments on Automated Teller Machines (ATM), Kiosks and lately mobile money. In Nigeria, Aero has remained the most innovative of the pack in terms of product distribution. Part of the core of the business model is empowering the passengers to be able to do everything from booking to payment to check-in them. The objective is making the booking and payment process so easy that Aero will be the most sensible rational option in the Nigerian airline industry. The booking and payment process is of course only one aspect of the value chain. Without doubt, it is a key factor in deciding which airline to fly, as our Victoria Island or Badagry resident will confirm to you.
What is booking on hold and what can an intending passenger do if he has made a booking on hold?
A ticket reservation made prior to a flight date to be paid for within a 24hrs period. It is a booking devoid of payment bound by a time limit. You could make payment at any of the designated banks or online.
Some passengers also complain too that when they try to pay on the web, they are not given any reference number but that their accounts are debited. What should such passenger do?
They could contact the airline via the call centre. They should provide the necessary information; last four digits of their cards used the name of the issuing bank and the date the transaction was made. The cards that can be used for payment are Visa, Interswitch Verve, Etranzact and Interswitch MasterCard.
How can a passenger change his bookings or change names on Aero?
The passenger could effect one free date change online for a future flight, contact the call centre for assistance or visit the sales desk at the airport. A name change can be effected on presenting a letter of authorisation from the initial ticket owner and his or her photo identity (ID) and N3, 000 payment fees for a name change across the sales desk.
It is usually very difficult for passengers to get refunds from airlines, and in some cases refunds don't even come. When is a passenger entitled to full refund and what is the procedure at Aero?
For a voluntary refund, a voucher is issued to the value of the ticket minus a 25 per cent administrative charge. For involuntary refunds; cancellations or denied boarding, if you choose to collect cash, you get your full refund; value of your ticket. If you agree to accept a voucher, you will get your voucher value plus 50 per cent bonus.
Source: Daily Independent