Fuel depot owners warn federal government as NIMASA, Intergrated Oil feud lingers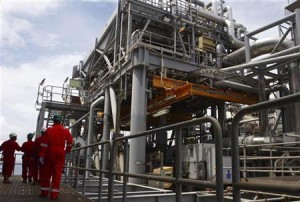 The Jetties and Petroleum Tank Farm Owners of Nigeria (JEPTFON) has advised the Federal Government of Nigeria to swiftly determine the persistent dispute between the Nigerian Maritime Administration and Safety Agency (NIMASA) and Integrated Oil and Gas Limited or face closing down all of its depositories across the country.
The association, speaking in a press briefing in Lagos, said that the incursion and forceful invasion of the depots as well as facilities of Integrated Oil and Gas Limited and Head Office by Army instigated by NIMASA, called for an urgent meeting where the members discussed at length.
Enoch Kanawa who is the Executive Secretary of the association, stated that the unlawful and unauthorized convulsion of the depot and facilities of the company in total disrespect to the safety and susceptible nature of such a humongous plus was completely criticized by the association.
He stated that, "the association collectively came to the conclusion that NIMASA did not check out of the illegal and unlawful brigandage of its incursion of the depots and facilities of integrated Oil and Gas Limited including their head office within 24 hours, it shall have no alternative than to shut down all depots in the country.
"We expect that Federal Government will not let us to go down to this level where one of its bureau will ignore due process, enlightened behavior and the rule of law in an independent governed state.
"We also suppose that the government will hid this caution, so that we do not go further than the unstable circumstances we are experiencing now in-terms of the supply of the allocation of petroleum products.
"We know that the only organization that can shut down depots is the Department of Petroleum (DPR) as they are the representative and regulator of the industry but for NIMASA that has to do with practical standard, procedures, protection and others, we are astonished that they are the ones taking care of stolen products."
Kanawa supposed that the union also measured the fact that its members have been suffering extremely because of the deliberate and intentional policy of the government to with hold financial support reimbursements. "The inquiry to make is who made NIMASA the detective of the industry? The same product was cleared by all pertinent agencies of government such as DPR, Nigeria Port Authority (NPA) and the Nigerian Navy and Customs who are conventionally saddled with the task of modifying the downstream but none did raise an eyebrow but NIMASA.
The Government should look into our demands before the situation becomes unbearable for the ordinary Nigerian. Already the situation is shaky and we do not intend to make It any worse, we have always done our part in making this business work, now the government should as well show commitment to our service, integrity and honesty. He concluded.