Forbes names Ralph Lauren as richest man in fashion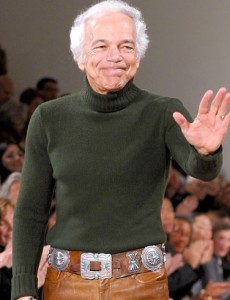 Forbes has named American fashion designer and business executive Ralph Lauren as the richest man in fashion. Lauren, 72, topped the 400 list with a net worth of $6.5 billion, more than his financial estimate last year. Lauren is the the 122nd wealthiest person on planet earth.
Other fashion industry insiders on the rich list include Leslie Wexner (No. 83, $4.4 billion) who owns the Limited Group and Victoria's Secret; Richard Hayne (No. 328, $1.4 billion), who owns Urban Outfitters; and several members of GAP's Fisher family (Doris, No. 142, $2.9 billion; John, No. 206, $2.3 billion; Robert, No. 285, $1.7 billion)
In 1987, he was diagnosed with a benign brain tumour. In April 1987 he underwent surgery to remove the tumour and made a full recovery.
He is best known for his Polo Ralph Lauren clothing brand.

Source: Forbes