U.S. Expresses Fears About Insecurity in Northern Nigeria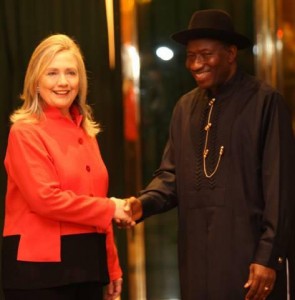 The Unites States Secretary of State, Mrs. Hillary Clinton, has reiterated her country's support for the Goodluck Jonathan administration's reforms in Nigeria.
Speaking during a meeting with President Jonathan at Aso Villa, the minister said the United States was worried about the security situation in the Northern part of Nigeria as it was capable of affecting other bordering countries such as Niger, Cameroon and Chad.
"Northern Nigeria also borders Chad, it borders Cameroon, it borders Niger and we are concerned this radicalism could undermine the security of neighbouring states," a senior U.S. official said.
"A security strategy is not enough," the official added.
The US officials also expressed their fears on how the Nigerian military is tackling the Boko Haram issue. They fear heavy-handedness on the part of the Nigerian military in tackling the menace may lead to heightened anger and more attacks.
"We know all too well from our own experiences in both Iraq and Afghanistan what can happen if soldiers and police are not operating under appropriate authorities.
"We will encourage them not to use excessive force and to look at this as a … law enforcement operation designed to catch perpetrators and bring them to justice," he added.
Mrs Clinton said: "You appreciate and you know how committed United States and the Obama Administration is to our partnership with your country. We consider it absolutely vital to our Bi-National Commission which as you have mentioned, has helped us to expand and deepen our cooperation on a full range of issues. "We are working on economic matters, the improvement of productivity in agriculture, education and health, security, diversification of your economy and so much more.
"We intend to remain very supportive on your reform efforts.
"Thank you for mentioning the work we did together on the election. We were also very supportive of anti corruption reform efforts, more transparency in the work that  you and your team are also championing because we really believe that the future for Nigeria is limitless but the most important task that you face, as you have said, is making sure that there are better opportunities for all Nigerians, South, East, West, every young boy or girl to have a chance to fulfil his or her God given potential.
"We want to work with you and we will be by your side as you make the reforms and take the tough decisions that are necessary."
President Jonathan thanked the US for their support in the last few years.
He said, "Within this period of being Secretary of State, she has raised the relationship between Nigeria and America to a very high level that we have never reached for some time by personally chairing the Bi-National Commission. We have discussed various things – security, economy and so on and so forth. She has been very supportive
"And of course, the Obama administration is also passionate about Africa and Nigeria. He has always been very supportive of us in the past five years. From the days I came in as Vice President, especially at that period as a nation when we faced a lot of challenge when the late President (umar Uar'Adua) was very ill and we passed through a turbulent period.
"And they gave us the support that stabilised this country. And when we insisted we must conduct an election that is free and fair, they were very supportive. They gave us moral support, technical support to INEC and assisted us to make sure that we conducted elections that national and international observers declared as free and fair.
"So, let me on behalf of government and good people of Nigeria really thank you and President Obama and the good people of America for this support and Africa and all what you are doing to make sure that this part of the globe is developed."