Former Popemobile Goes On Sale For $350,000
By
admin
on August 7, 2011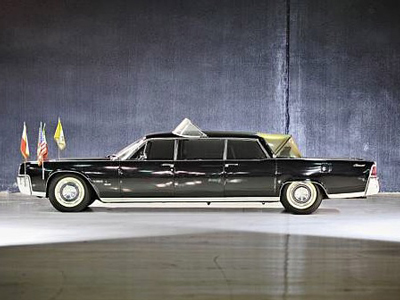 It has carried a pope through New York and ferried US astronauts during triumphant returns from space. Now, a specially adapted 1964 Lincoln Continental limousine – a more elegant precursor to the modern popemobile – is up for auction and is expected to fetch up to $350,000 (£215,000).
The stretched limousine was built in 1965 at the request of the Vatican to convey Pope Paul VI through New York to address the United Nations.
The vehicle was completed in two weeks and included features such as exterior step plates and handrails for bodyguards, a PA system and a raised seat for the pope.
There was a removable roof section so that the pope could be seen and an extra windscreen on the roof to protect him. The car was used again by the pope when he visited Columbia in 1968.
From then on it was used by the city of Chicago as a parade car and carried the likes of astronauts Neil Armstrong and Buzz Aldrin.
More recently the car has been owned by collectors but is being sold by the auctioneers Bonhams in California later this month. Rupert Banner, from the auction house, said: "It is a special piece of nostalgia. There will be individuals and museums who will want it."
GuardianUK